Live Web Streaming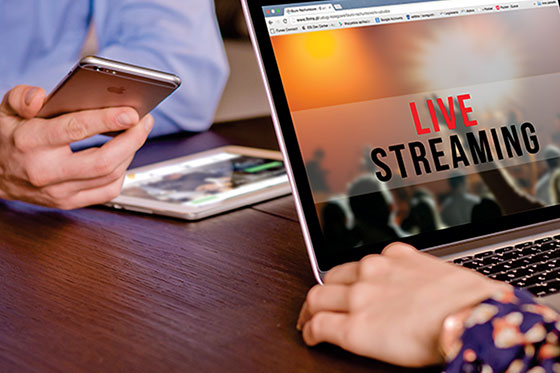 Live web streaming means webcasting or broadcasting videos live over internet on platforms like facebook and youtube.
Trends are changing and so it is good to innovate new things to keep your audience interest in your product. People today want content which is fresh and new. They find interest in unedited & unscripted content & thus they love live streamed Video.
Live streaming or web steaming is more authentic and has a more personal touch to it and enables viewers to leave comments or question with the possibility to interact directly with the Live Video host. This helps companies to open many doors and helps them create loyalty.
Audience prefer watching a live video from their brand now rather than reading a blog. Thus the market trends have changed and the market for live web streaming services on the platforms like youtube and facebook have been creating a greater impact on the consumers. Live webcasting videos have been shared apprx 40 times than any other form of content.
Today's generation is always multitasking & so people want to do something while they watch or listen to something on another topic.
show more
So it is very important to spend well on a quality content and keep up to the trends.
Digi Latte helps you create a good client connect by proving with Live video streaming services in Mumbai, on Facebook and youtube at a reasonable rate within the budget without compromising on any kind of quality.
Webcast service providers can help web streaming which can be utilized in the business sector for investor relations presentations (such as Annual General Meetings), in E-learning, seminars, workshops, conferences and for connected communications activities. Live streaming to your product offerings is a value-added service which can increase profitability and business without adding too much in the way of additional costs.
Webcast production has many applications and is used by not just corporates but by small business houses as well.
It is used by
Corporate Houses
Sport Agencies
Media Agencies
Educational Institutions
Entertainment Industry
Charities/ Non-Profit Organizations
for streaming not just professional events but also some personal events and reach out to a larger audiences in the most cost effective manner.
More and more businesses are using web streaming for effective communication.
A lot of Business Corporations, entrepreneurs and public speakers have started using web casting facilities in their communications like meetings, presentations, workshops, conferences, product demos, seminars and many other such events.
Through live streaming one can reach out to any number of participants anywhere in the world without travelling & going physically there and can save time, money and effort.
People may use it for personal use also like sharing their weddings with our services of wedding live streaming and make their wedding live or birthday parties or similar event with near and dear people who have not been able to attend the same.
show less