Social Media Marketing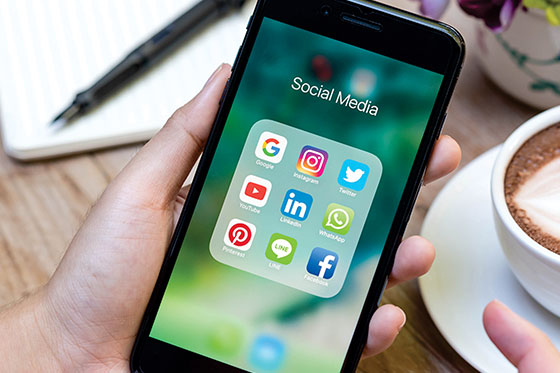 Social Media Marketing is a process for building a business through one or many different social media Platforms like Facebook, Instagram etc; Regionally or Globally.
Social Media – Powerful Tool
Social media has become a powerful marketing tool in the today's time. Not only big multinationals but also small startup companies use social media as their marketing tool to promote their business and reach out their customers.
Social media marketing creates a platform to connect with the clients, interact directly with them as well as get the feedback on social media platforms like Facebook, Twitter, Instagram or Pinterest.
Social media marketing helps you to get an insight of what your customers are looking for and helps you target that specific audience and that's why social media marketing is very important. One can therefore not ignore Social media marketing services.
show more
Why Social Media Marketing? One gets benefited which gets hard to ignore!
In today's time almost everyone is present on social media platforms like facebook and instagram.
Watch videos on youtube or follow influencers on twitter. They share their views & even interact with their family and friends.
With these SMO services, one is more likely to get instant feedback from your prospects customers. social media marketing thus becomes an important tool to promote ones business.
Study says.
94% of the businesses agreed that SMO services are very important for their services
74% of the users who are online are also active on social media networking sites
89% of the users who are online in the age group of 18-29 are extremely active on social media sites
The above numbers clearly states that to get prospect customers attention, you need to use SMO services in India which will help you increase your sales and revenue. This makes social media marketing is a must for a business organization.
Key benefits of using social media marketing services:
Social media marketing helps generate specific Quality Leads
Thus helps to increase Sales
Increases Profits
Helps Creating Market Awareness
Increases value for your Brand
social media marketing is less expensive then the other marketing strategies so helps reduce marketing expenses
Customers can interact directly
Helps improve SEO rankings
Helps Growing your network
Drives traffic organically
Digi Latte's Role!
We analyze and assess the current status of your social media campaigns
Help you shortlist the social media platforms based on your unique business needs.
Design strategies to market your business to get maximum benefits
Help create brand awareness which helps building brand value by using marketing strategies which can connect various platforms
At Digi Latte, we brew content with refreshing ideas and which includes effective, inspiring texts, visuals and videos for optimal advantage
Constant implementation of different strategies across the social media platforms.
Optimize the campaigns using advanced features of the social media platforms and reach out to relevant audience.
Evaluate the market to make new marketing strategies to ensure great success for your campaign
Digi Latte SMO services ensures :
Completely unique social media marketing strategies to help achieve your business objectives & goals
Marketing in most desirable manner to benefit at minimal costs
To create energy, emotion and excitement about your products and services in the market.
Social media marketing ensures Value for money campaigns.
Trust our social media marketing services and win customers loyalty!


show less